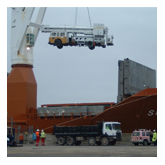 Truck and Plant Shipping
Car ship has a department which specifically deals with shipping large trucks, plant and construction equipment. With over 27 years of experience we can assist in every aspect of the shipment. The rates for large trucks etc are calculated on the size and weight of the vehicle, you only pay for the space your vehicle takes up. So we will need the dimensions/weight before we can give you a quote. These must be accurate as all vehicles are weighed and measured when they arrive at the port.
Most trucks/plant etc are too big to be loaded in a container, therefore they will have to be shipped by roll on roll off. We can collect your vehicle on a low loader and take it to the UK export terminal, it will then be stowed and secured on the next available vessel and shipped to the port of your choice. .