Container Shipping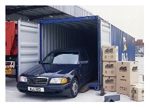 You may wish to ship your vehicle in a container for ultra-safe and secure worldwide transport. You will also have the added advantage of being able to send items of your personal effects inside the container.
The container will be loaded at one of our designated loading warehouses. One of our highly trained staff will load and secured your vehicle inside a steel shipping container using lashings and ratchets specifically designed for the task of securing vehicles. For an average saloon car we would secure a lashing, with a breaking strain of 1500kgs, from each wheel to fixed points on the container floor, this will prevent any movement and guarantee a safe journey for your vehicle.
If you have a 20ft container loaded with an average saloon car then you will have about 100-200cuft (2 x pallet spaces – see pictures) at the end of the container to put your wrapped effects in. (So if you have a 40ft container with 2 cars loaded then you will have about 200-400cuft for your effects). It is essential that any household goods loaded in the container are securely strapped and professionally blocked in place by our experienced warehouse staff. Any movement of effects can cause serious damage to the car body, therefore the effects should be in cartons or crated before being loaded in the container. We do not offer a removal service so you will need to arrange to pack/wrap your effects and deliver to our warehouse. We very rarely can put anything alongside or on top of the vehicles. Don't forget, you can load goods inside your vehicle as well – this is the advantage of shipping your car in a container.
We reserve the right to leave anything behind that cannot, in our opinion, be safely and securely loaded. Our ultimate concern is for the safe and damage free shipment of your car. Depending on container availability and port operations we may not always be able to load the container the same day as your vehicle/goods arrive. However we always endeavour to have your container loaded ready for the booked export vessel.
With the doors closed the steel container is completely tight and sealed from the elements. A security seal is fixed to the doors and no one will have access to the vehicle until it reaches its destination apart from the local Customs authorities, should they wish to inspect the container. We then move the container from the warehouse to the overseas export terminal where the container is loaded onto a container vessel bound for the port of your choice.
Container dimensions
STANDARD 20'

INSIDE LENGTH
INSIDE WIDTH
INSIDE HEIGHT
DOOR WIDTH
DOOR HEIGHT
CAPACITY
TARE WEIGHT
MAX. CARGO

19'4"
7'8"
7'10"
7'8"
7'6"
1,172 ft³
4,916 lb
47,999 lb

5.89 m
2.33 m
2.38 m
2.33 m
2.28 m
33.18 m³
2,229 kg
21,727 kg
| | | | |
| --- | --- | --- | --- |
| | | STANDARD 40' | HIGH CUBE 40' |
INSIDE LENGTH
INSIDE WIDTH
INSIDE HEIGHT
DOOR WIDTH
DOOR HEIGHT
CAPACITY
TARE WEIGHT
MAX. CARGO

39'5"
7'8"
7'10"
7'8"
7'6"
2,390 ft³
8,160 lb
59,040 lb

12.01 m
2.33 m
2.38 m
2.33 m
2.28 m
67.67 m³
3,701 kg
26,780 kg

39'5"
7'8"
8'10'
7'8"
8'5"
2,694 ft³
8,750 lb
58,450 lb

12.01 m
2.33 m
2.69 m
2.33 m
2.56 m
76.28 m³
3,968 kg
26,512 kg