ROLL-ON/ROLL-OFF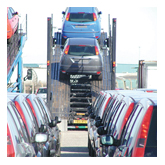 Roll on roll off is a fast, reliable and cost effective method of shipping vehicles.
We can collect your vehicle on one of our car transporters and deliver to a UK export terminal or to keep your costs even lower you can deliver it yourself. We regret that you will not always be able to load extra items in your vehicle and if anything is loaded it will be completely at your own risk.
Once your vehicle has arrived at the terminal it will be shipped on the next available vessel. It will be stowed under deck for added safety and security. Once the ship reaches its destination the vehicle will be unloaded and stored in a secure area of the port ready for you to collect. Unfortunately not all port in the world can accept Roll on Roll off shipments.